Philadelphia Eagles 2022 NFL Mock Draft Roundup 1.0
Throughout the year and leading up to the 2022 NFL Draft, we will update our Philadelphia Eagles Mock Draft Roundup showing picks for the Philadelphia Eagles from several prominent sites and draft analysts.
The following are picks in recent mock drafts for the Eagles:
EDSFootball - Hanson (5/10)
8. Malik Willis, QB, Liberty
The Eagles didn't add any competition via the draft for Jalen Hurts, but they will have three first-rounders in 2022 assuming that Carson Wentz plays a minimum of 75% of offensive snaps for the Colts in 2021. If they are picking this high based on their own performance (i.e., their original pick), the Eagles brass will likely add competition next year. A transfer from Auburn, Willis is arguably the most physically-gifted quarterback in this year's draft class with a chance to put himself in the mix for the top pick come next April.
Per
The Athletic's Bruce Feldman
, Coastal Carolina's DC Chad Staggs said the following about Willis: "We were undefeated, we had beat BYU, I thought we were pretty good on defense. And I felt like [Willis] single-handedly beat us. We couldn't tackle him. He's got a cannon. From a true physical ability thing, he was special."
18. Zach Harrison, EDGE, Ohio State
Not only is Brandon Graham 33 years old, but Derek Barnett is scheduled to play the 2021 season on the fifth-year option. If the former five-star recruit is able to take a major step forward in his third season, he has the tools and athleticism to follow in the footsteps of recent Buckeye edge defenders to become a high draft pick.
22. Andrew Booth Jr., CB, Clemson
The conditional 2022 second-round pick sent to the Eagles becomes a first-rounder as long as Carson Wentz plays at least 75% of the offensive snaps in 2021. Barring an injury, it's a near lock that the Eagles will own Indy's pick in 2022.

Both Jaycee Horn and Patrick Surtain II were off the board before the Eagles were on the clock in 2021 and the team drafted Zech McPhearson in the fourth round, but I could see the team using one of their first-rounders on the position in 2022. A five-star recruit, Booth has outstanding ball skills (see below) and if he plays with more consistency, he should hear his name called on Day 1.
🚨 MUST-SEE!!! 🚨

Andrew Booth with an unbelievable one-handed interception!

(Watch live on ACCN or here: https://t.co/lu6NuCdXJ2) pic.twitter.com/sTzU756SYj

— Clemson Football (@ClemsonFB) October 4, 2020
Touchdown Wire - Schofield (5/7)
5. Spencer Rattler, QB, Oklahoma
Oklahoma quarterback Spencer Rattler stepped into the starting lineup after Jalen Hurts moved on to the NFL. Could a similar situation play out in Philadelphia? The Eagles made moves to build around Hurts in this past draft, trading up for wide receiver DeVonta Smith. But if the Eagles are picking this early, it might mean that the organization will be in the QB market next spring. Rattler needs to calm his feet in the pocket and not play so frenetically, but with a step forward this season he might challenge for that QB1 spot in the draft.
16. Ahmad Gardner, CB, Cincinnati
Cincinnati cornerback Ahmad Gardner burst onto the national stage as a true freshman in 2019, securing a Pick-Six in Cincinnati's upset win over UCF, and it was Gardner's touchdown that was the different. He added a second Pick-Six later that year against ECU. He earned a starting job by the end of the season, and held down that role for the Bearcats in 2020. Last season he ranked second in the ACC with nine pass breakups, and tied teammate Coby Bryant for fourth in the conference with three interceptions. He might be a dark-horse candidate for the first round at this point, but he is certainly someone that could play himself into the mix with a solid junior season.
Continue reading our Philadelphia Eagles Mock Draft Roundup
MORE TEAMS: All NFL Team Mock Draft Roundups
2021 NFL Power Rankings: Philadelphia Eagles
Throughout the 2021 NFL season, we will compile a consensus NFL Power Rankings that averages the rankings of all 32 NFL teams.
Here is where the Philadelphia Eagles rank in terms of average, best and worst:
Average ranking: 21.6 (22nd)
Best ranking: 20th (Multiple)
Worst ranking: 24th (ESPN)
Below you will find a Week 6 roundup for the Eagles in our consensus 2021 NFL Power Rankings.
ESPN -- Rank: 24
Most improved player: DT Javon Hargrave

How they've improved: Hargrave has been the Eagles' best player through five games. He already has six sacks on the season, which is tops among defensive tackles and third overall in the NFL. It's also a half-sack less than his career high. Hargrave, 28, had four quality seasons with the Steelers before joining the Eagles in 2020. He was limited thanks to injury last season, but has turned into a dominant force in his second year in green. -- Tim McManus
NFL.com -- Rank: 20
The Eagles were in desperate need of a big play late in Sunday's matchup against the Panthers. They got one in each phase of the game during the final five minutes of a 21-18 win. T.J. Edwards' blocked punt, Jalen Hurts' 6-yard touchdown run and a Steven Nelson interception of Sam Darnold turned a five-point deficit into a three-point victory that snapped a three-game losing streak. Next up for the Eagles is a huge measuring-stick game against the reigning champion Bucs on Thursday night. It will take more than a strong finish to beat Tampa Bay.
Continue reading Philadelphia Eagles NFL Power Rankings Roundup
Philadelphia Eagles: 2021 NFL Schedule
Below you will find the weekly NFL regular-season schedule for the Eagles in 2021.
MORE: 2021 NFL Strength of Schedule
| | | | |
| --- | --- | --- | --- |
| Week 1 | Sun., Sept. 12 | at Atlanta Falcons | W 32-6 |
| Week 2 | Sun., Sept. 19 | vs. San Francisco 49ers | L 11-17 |
| Week 3 | Mon., Sept. 27 | at Dallas Cowboys | L 21-41 |
| Week 4 | Sun., Oct. 3 | vs. Kansas City Chiefs | L 30-42 |
| Week 5 | Sun., Oct. 10 | at Carolina Panthers | W 21-18 |
| Week 6 | Thu., Oct. 14 | vs. Tampa Bay Buccaneers | L 22-28 |
| Week 7 | Sun., Oct. 24 | at Las Vegas Raiders | 4:05 PM / Tickets |
| Week 8 | Sun., Oct. 31 | at Detroit Lions | 1:00 PM / Tickets |
| Week 9 | Sun., Nov. 7 | vs. Los Angeles Chargers | 4:05 PM / Tickets |
| Week 10 | Sun., Nov. 14 | at Denver Broncos | 4:25 PM / Tickets |
| Week 11 | Sun., Nov. 21 | vs. New Orleans Saints | 1:00 PM / Tickets |
| Week 12 | Sun., Nov. 28 | at New York Giants | 1:00 PM / Tickets |
| Week 13 | Sun., Dec. 5 | at New York Jets | 1:00 PM / Tickets |
| Week 14 | | BYE | |
| Week 15 | Sun., Dec. 19 | vs. Washington Football Team | TBD / Tickets |
| Week 16 | Sun., Dec. 26 | vs. New York Giants | 1:00 PM / Tickets |
| Week 17 | Sun., Jan. 2 | at Washington Football Team | 1:00 PM / Tickets |
| Week 18 | Sun., Jan. 9 | vs. Dallas Cowboys | 1:00 PM / Tickets |
MORE: Eagles historical W-L records - Eagles historical head-to-head records
Get tickets: Philadelphia Eagles tickets - Philadelphia 76ers tickets - Philadelphia Phillies tickets
Philadelphia Eagles - 2021 Draft Results
The table below are all of the 2021 NFL Draft picks selected by the Philadelphia Eagles.
| | | | | |
| --- | --- | --- | --- | --- |
| 1 | 10 | DeVonta Smith | WR | Alabama |
| 2 | 37 | Landon Dickerson | C | Alabama |
| 3 | 73 | Milton Williams | DT | Louisiana Tech |
| 4 | 123 | Zech McPhearson | CB | Texas Tech |
| 5 | 150 | Kenneth Gainwell | RB | Memphis |
| 6 | 189 | Marlon Tuipulotu | DT | USC |
| 6 | 191 | Tarron Jackson | DE | Coastal Carolina |
| 6 | 224 | JaCoby Stevens | S | LSU |
| 7 | 234 | Patrick Johnson | EDGE | Tulane |
More: Full 2021 NFL Draft Results - Philadelphia Eagles Draft History
More NFL Draft content:
Philadelphia Eagles Fantasy Football ADPs
When it comes time to draft our fantasy football teams, it's helpful to know where players are typically being selected in fantasy football drafts.
As we approach the 2021 NFL season, the tool that helps us understand where players are being selected, on average, is fantasy football average draft position (ADP).
Using data from Fantasy Football Calculator, we have set up pages for all fantasy-relevant players that depicts their current trends in standard-scoring and PPR-scoring ADPs.
The chart below displays the Fantasy Football Average Draft Position (ADP) movement over the past 30 days for Philadelphia Eagles quarterback Carson Wentz in 12-team standard-scoring formats.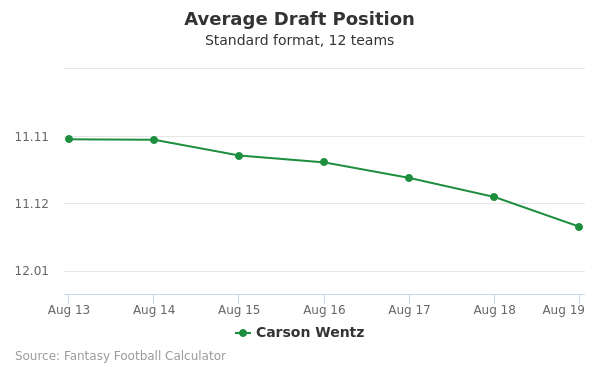 More Fantasy Football ADP charts for Philadelphia Eagles players:
More of our content:
Keep track of our site's updates: (1) follow us on Twitter, (2) like us on Facebook and/or (3) subscribe to our newsletter.